Affordable Art Fair 2023 - A Slice of Hong Kong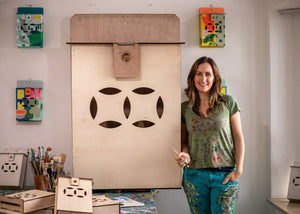 I am so excited to announce that I'll be exhibiting at the Affordable Art Fair from 18 to 21 May.  It's the 10 year anniversary of AAFHK and I have been exhibiting since the very beginning. 
To mark this 10 year milestone I will be running a special project at the fair.  I'll be painting a giant mailbox live!   Visitors will be invited to interact by writing a postcard that can be posted in the letterbox and sent wherever they wish.   I hope you can make it.  Visit Booth C9 to see me painting in situ. 
This installation celebrates connection to Hong Kong and to the rest of the world. Taking the iconic HK mailbox I want the public to feel they are going back to a simpler time. The joy of receiving handwritten mail through the post is undeniable. Today we are connected more than ever but do we make less effort? We've also had a long period of isolation during the pandemic so I am keen to reinforce connections whenever possible. 
Smaller mailboxes will be on sale and there's a limited edition of 10 unique pieces only. 
My work will also be at Booth B09, with  The Hong Kong Arts Collective, where I'll be showcasing my latest collection, A Slice of Hong Kong.  
Join us at booth  C09 and B09 for this year's celebratory Affordable Art Fair! 
Opening hours:
Opening Night: Thursday 18 May, 4pm – 9pm
Public opening:
Thursday 18 May 4pm – 9pm
Friday 19 May 11am – 8pm
Saturday 20 May 10am – 7pm
Sunday 21 May 10am – 7pm
Thank you so much for being a part of everything I do!
See you at the fair!