Christmas Wishlist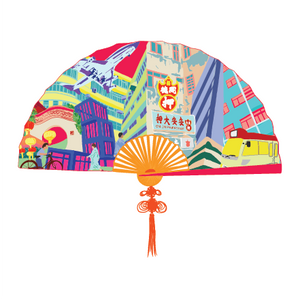 2020 is coming to an end and with less than 45 days till Christmas, I'm determined to end it on a hight note.
I think we're all feeling frustrated with the travel situation, but speaking to friends, we seem to all be in agreement that this Christmas should be one to remember in a good way.  I'm certainly pulling out all the stops decoration wise and may even have a real tree for the first time in years.  For me it's the baking that gets me in the Xmas spirit and It's nearly time to make my cake, xmas pud and the first stollen.  I can't wait!
However, somehow I always end up leaving too little time for one big task: Finding an unbelievable gift that will make someone's Christmas unforgettable. This year even more so.
If you are anything like me and could really use so help in finding unique gifts for that special someone, check out these suggestions below. Whether you want to give a beautiful memory of Hong Kong to a friend leaving town, a personalised Zodiac family print, or if you are looking to keep the kids busy during the holiday season, my Christmas wish list has something for everyone.
UNIQUE ZODIAC FAMILY
 Choose the zodiac animals that are unique to a family all together on one print.  
Simply choose the family size and your animal choices. Your own unique Zodiac Family will be a lovely addition to anyone's wall.  The Zodiac Family is printed on archival quality paper and will arrive in an art tube.
CARDS
Send messages of love and thanks with these unique Zodiac cards. They are a true piece of art and recipients will love the personal touch. They will also be available in a square version soon via the website. 
PEOPLE OF HONG KONG SERIES
Pushing On or Sweeping Up? These gorgeous prints are available in large and smaller  limited edition prints.
HONG KONG SPIRIT COLLECTION
Just in time for Christmas my Hong Kong Spirit Collection has been added to, making a set of 6 fun and vibrant prints packed full of slices of Hong Kong Life. 
Whether it's Bambamboo, Fan Of Hong Kong or Bat Coin, these are the perfect gift or addition to a wall full of art!
Each one will arrive rolled in a tube to avoid damages. Opt for a rectangle or square version!
There's a set of cards coming to the shops soon too.
ZODIAC HOMEWARE
These beautiful home products were made by boutique design house Faux. They are the perfect gift or addition to your homeware collection.  I've put Cacti in mine and they look so funky!
The Zodiac teacups are made from fine bone China depicting 2 animals on each cup.  Alongside  Chinese tea and espresso they are a brilliant size for kids' hot chocolate. Please order directly from Faux, https://faux-home.com/. Also available at all Bookazine stores in Hong Kong.
Hand Woven Photomontage
If you are looking for statement piece of art that will stand out on your wall then my photomontage works stand apart from the traditional  HK photography.  Each piece is handwoven from two images and is part of a limited edition of 10 only. 
For an affordable print version you can also go Yellow Korner gallery (there are 3 in Hong Kong)  and order there. In fact these can be ordered and shipped anywhere in the world. 
KIDS CHRISTMAS GIFTS COURSE 
Want to keep the children creatively occupied whilst you decorate your own home for the holidays? Send your troops to create some decorations for your collection and some unique and lovely gifts for the family. Spaces usually fill up quickly so don't miss out and book online asap.
COLOURING BOOKS 
A great gift for children and adults alike. With the colouring-in craze hitting Hong Kong big time, the 'The Zodiac Collection' translates well into a colouring in book for all ages.  Each page gives room for extra doodling so that you can create your own patterns and designs.  Equipped with perforated pages , each work of art can be framed to share the pages with a friend or sibling.  Enjoy colouring Hong Kong!
Be sure to sign up for my regular updates with more wonderful and unique Christmas gifts. Would you like to receive some of these amazing works of art yourself? Why not share this blog with your friends and family and a hint of which gift would be perfect for you!