Recognition for Eleanor McColl in Hong Kong press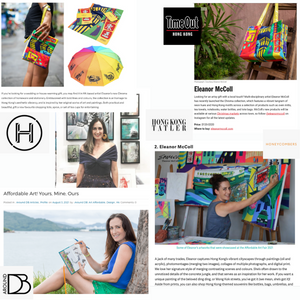 2021 has been another interesting year for all of us, to put it mildly. But despite the challenges of not being able to travel and visit loved ones, the difficulties around planning projects, exhibitions and art classes and the general feel of uncertainty about "what next", I can honestly say that the year was also filled with growth, discovery and successes.
It is such an honour to have the result of all the hard but rewarding work  featured in a number of amazing publications in Hong Kong, showing my artwork to their masses of readers. I feel truly humbled, blessed and grateful for this recognition - thank you to each and every one of you for supporting me.
If you feel inspired to start shopping for your Christmas gift list - you can buy my artwork and ARTware products online right here at 
www.eleanomccoll.com
. Some products have nearly sold out online, but I will also be showcasing my work at Team Concept Store in Hollywood Road in Central from 1-7 December, at the Christmas Fair at the Conrad on 9 December and at my own studio on 17 December. I would love to meet you at any of these events.
From 1 December I shall publish my own 12 Days of Christmas gifts list on my social media accounts and on this blog. Check it out for the best festive gifts for you loved ones - and yourself. Happy Shopping.